Take the Balls Off My Neck
After snowboarding the friggid landscape of the South, I can't seem to get enough death wish and joined a colleague for his weekly abseiling on the western mountain ranges of New South Wales.
They call it "abseling" here in Aussie. We call it "rappelling" in Phils. But most people everywhere might agree to call it "DANGER".
Not with AD, I reckon (and pray). This guy looks as if he has been doin it for ages. So with Cindy, Marvs, Dens, AD, and Yuki, we drove all the way to the dirt roads of the Blue Mountains area clinging to my regret that I should have taken a life insurance back in Manila. Hehehe.
I dunno what struck me lately that I was welcome to such pain-inducing endeavours: I'm playing airsoft in Manila; I snowboarded just last month; I got another piercing on my left ear just above my first one (OZ remembrance); and now, rappelling and climbing back.
E sa totoo, duwag ako sa kahit ano nung bata ako. Takot ako maglangoy. Takot ako sa dilim. Takot ako sa Pinoy Thriller at Regal Shocker. Takot ako sa maraming hayop. Takot ako kay Madame Auring. Takot ako sa dugo. Pero higit sa lahat, takot ako sa "HEIGHTS"!
First, we went to Anvil Rock and Winderoded Cave. These are just around the Blue Mountains too. The first is a cliff point that has a good view of the surrounding mountain ranges and ravines. The second spot is, as the name suggests, just a solid sandstone formation pockmarked by constant wind weathering. I think, going on these places were good preparations on psyching out ourselves on the heights we were challenging later that day. Kumbaga, enjoy the view and feel the sense of elevation muna dahil mamaya yan ang kalaban namin. Yay!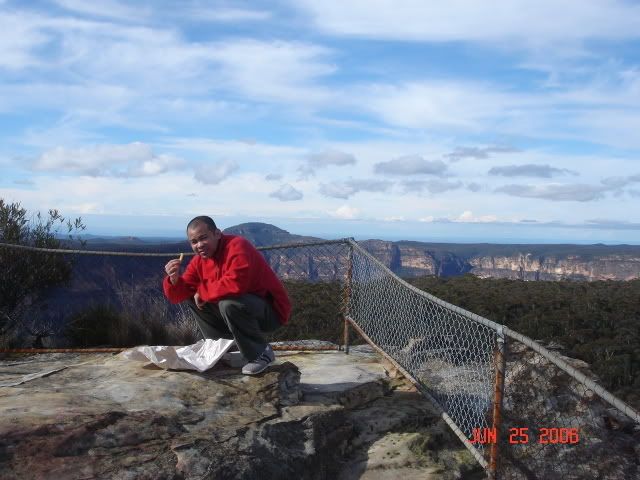 Akala ko eto na huling kain ko...


Then we headed to the abseiling place. From where we parked, we hiked another kilometer and so through the woods to this training spot for beginners. It's a good 18-20 feet of rugged layers of rock and I tells ya, it's still effin scary. We took turns rapelling down with coaching from AD. I realized the scariest part was when you first hop off the ledge. This is where you'll ask yourself if you're still sane. Not looking below and talking to your friends while you descend helps a lot for starters, even when you'll realize that you can barely hear their voices because they're just effin far down below.

We also took turns on the belaying job at the landing spot. AD thought us how to. He's also belaying from the top so it's pretty safe on a technical persepective, no real anxiety on the process of abseiling per se. It's the matter of knowing you are jumping off a taaaall cliff that is bloody petrifying.


After our sortee at the "small" cliff, we took our lunch ala picnic then walked some more meters to go to the staging area where the taller drop awaited us. Eto na, dito na kumatog mga tuhod ko. AD set up the system and one by one they all hopped off the edge. It all looked so easy from the starter cliff we've tried, but this one was just too high.



That's Marvs. This is what we rappelled.


As I've expected, I was the last to rappel down (kaya wala akong picture of me abseiling down). I had a hard time convincing myself that I was no chikkin. Anyway, because of peer pressure, I eventually gave in despite my guts having a good fun of me dancing tango inside my belly. I suddenly became religious and summoned all the saints the FSC brothers introduced to me before hopping off the ledge. Hehehe. But yep, the experience was waaay cool, especially on this part where you'll be off the rockface and got nothing to step on. With it, the only way down was to hang suspended on air while rappelling. Here, the ropes will start turning and you'll be facing all those land formations and deep ravines surrounding you... taunting that you are 197ft off the ground and you can do nothing but scream. Until now, I think my balls were stuck on my neck because of this.

When I got to the bottom, I was so perspiring and hyped up that I can't even feel a pain from the scratch on my knee. It was the best release in my life... all I want then was to relish what I just did and stop my body from shaking. Hehe.


Apparently, it was not the end of it. We have to climb all the way back up to our jump off spot to pack and head home. It was no way easy. It's still a good 35-ish degree climb... very steep and rocky, but after that rappel I think I can do everything and no climb's too high.

I say, I'm still afraid of heights but the experience made me more comfortable being on elevated edges.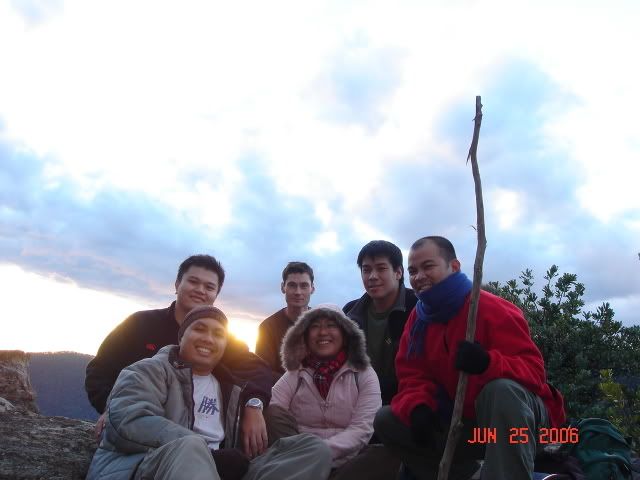 L-R: Dens (front), Marvs (back), Cindy (front), AD (back), Yuki, and Piolo Pascual (after a bad facelift)