Otokoto (Tis My Ride, Baby)
Too Fast Too Furious 3 - Tokyo Drift
Spoiler Alert! Spoiler Alert! Spoiler Alert!

The story revolved around Shawn and apparently his innate ability to attract racing challenges. After another one of his racing accidents, her mother was forced to sent him to his army dad in Japan.
In Tokyo, Shawn was introduced to another kind of street racing called the drift race. Despite efforts from his dad to keep him from racing, Shawn was able to befriend a rich gangster Han who introduced him to his underground works and trained him on drift racing. There's nothing really spectacular on the storyline, it's just that complications started when Han's partner in underground business and gangster leader DK (Drift King) started to lose big bucks with his dealings with Han. This, and that DK's hot girlfriend Neela is scoring some sparks with Shawn, infuriates the gangster leader more.
Towards the end of the movie, Han, on a wild car chase against DK, died. As expected, Shawn will eventually face off with DK on a drift race to settle the dispute once and for all. Syempre, good guy won.
Very very simple storyline. It's like watching a Pinoy action flick where you'll know most of the time what's goin to happen next (and that the cops will arrive late). I guess that's how it should be: crap the story out in favor of dazzling cars, hot chinky babes, wild rave parties, and heart-pounding races (baril at drugs na lang kulang... wehehehe)! Saying that, let's stop talking about the general plot of the film. It's simply unimaginitive. Done.
As Shawn quoted referring to his compulsion to cars (and tis my YM status yesterday), "I'm a guy, it's in my DNA."
What does the story lacked the film compensated with an array of drool-inducing show cars and race manuevers that drag race afficionados would swear to in their lifetime. Typical of the prequels, almost 70% of the movie involved car chases that if you're not too fond of will bore you to your seats. Saying that, iL generalize that the film's just for car enthusiasts. Done.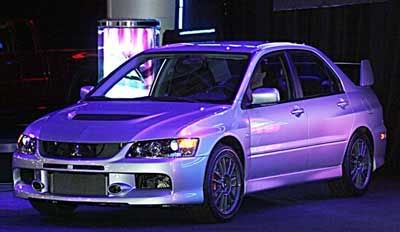 My dream car, baby. Mitsubishi Evolution IX! And it's violet, baby. (Kelangan may "baby" lagi para "hip", baby!)


Casts' acting is not worth to ponder upon. It's a "car movie" and acting, no matter how crappy it is as the storyline, is almost as irrelevant really. Just some quick notes about em: Shawn's country accent is cool; Neela's supposed to be from Australia in the film. It din't show with her accent. And guess what, shame because in real life Nat Kelley's really from here in Sydney (hunting time hehe jokez); Reiko, the cute Japanese girl on Han's troupe (na kras na kras ko), used to portray Sailor Mars (na kras na kras ko nun bata pako) on a Sailor Moon movie in Tokyo; the fisherman that kept on commenting on Shawn's drifting skills was the original Drift King, Keiichi Tsuchiya and pioneer of drift racing back in the 70's; Vin Diesel's cameo appearance is an unnecessary advertising ploy. They'd rather add another cool looking car or a sexy vixen instead if they wanna boost audience... male audience that is. Let's face it, girlz and carz rarely meet so even with the muscle actor there, it'L not be enough to sway more of the female populace to watch.

Kaya ang lakas ng appeal ng "car girls" sa mga repapips e kasi bibihira. Personally, kras ko e yung cute na F3 racer si Gabby dela Merced. Idol.

Nothing to wrap up really. Apat na gulaman, and I think I'm still being kind. Saying that, if you're expecting to see something in the film other than chinky girlz, wicked carz, and dirt trickz, don't watch the movie. You will not see it. Done.

*****

Speaking of Miss Gabby dela Merced, gawd I just knew that she's the first female Asian racer for Asia Formula 3. Astiiiig. Mas naging kras ko pa sya lalo. And what rockz is that she's studying at UPCFA!!! Shak Boyz are you reading this?? Katambayan natin siya!! Wooot! Sana kilala siya ni Sir Mel. Papapirma ako sa jersey ko ng "FUCK OFF, OBI!!". Wooot! Anyone here who personally knows her? Hope she don't mind.
Ibalik nyo ko sa Pilipinas!!! Tambayan na!!! Woowoot!