Tales of the Meanderings
Baptism of Fire
I've added another hobby to my gaming portfolio - airsoft wargames (or what my friends often call "gunbang"). Basically, teams are given mission objectives and, equipped with airsoft guns, shoot each other while accomplishing their goal. I had my first game yesterday and it was real adrenaline-pumping fun.
Airsoft guns are mostly replicas of its real-life military counterparts. However, instead of live ammunitions, we use BB pellets as bullets. And it's not something to be shruged off. These electric-powered airsoft guns can propel BB pellets at speeds that is literally "skin-peeling" on exposed flesh that's why most players are clad in real military gears, from camouflaged veils to neoprene masks. On yesterday's game, I was wearing my dad's PSG urban camouflage pants and a tree bark-brown parka courtesy of Jacob. Salamats, man! Last Saturday, I've also bought my own protective gloves, a mesh type face mask, and a camouflage net to cover the flesh on my neck part.
Unfortunately, by some tough luck, I was hit yesterday on an exposed skin on the jugular and it sort of stings until now. They said iL get use with direct hits like that. Some more powerful guns can even produce a red welt on the skin even when hit over a garment, and I've seen first hand proofs of that. I say, I hope I will not come to realize that soon but I'm ready for the experience. Fear begets cowards!! Hehe. May mga kasama pa nga kaming girls na naglalaro e. No reason to chicken out.
Yesterday, our game was held in Last Castle, Pasig - just in front of the former Ultra Sports Complex. It's a spacious, vacant lot with ruined walls and foliage fit for an urban-jungle scenario. The first couple of rounds of games were more like an orientation to me as I take on the surrounding terrains and familiarize with good vantage points.
With it, I also bought my own airsoft gun and tested it on yesterday's games. It's an Heckler and Koch G3A3 assault rifle, famous with the German army during the post-World War 2 era.
Here's a Wikipedia entry about the gun:
http://en.wikipedia.org/wiki/Heckler_&_Koch_G3
I was able to play 5 games yesterday:
1st game
- I used my own HK G3A3. I familiarized myself with the game rules, terrains, and my own rifle's capabilities. I was amazed at how far my gun can shoot. I got it as a second-hand stuff from a friend's friend who is a gunsmith and the internals were modified for that added punch.
2nd game
- Still using my own gun, I followed a friend to a trench and got pinned in it as my gun won't shoot anymore. Something's wrong with the motor connection. I just waited the game to end via a time-over.
3rd game
- I borrowed an
HK MP5KA4
from a friend. The gun's so light and the range is quite limited so I have to join the front line assault in order to have an efficient use with the MP5. Luckily, I got the first kill of the game as I saw something crawling on a nearby bush. I thought he was a teammate at first, but when he started firing at the squad on my left flank, I peppered him with BB bullets. Good riddance. =)
4th game
- Still using the MP5 gun. I was able to enggage several enemy hiding on a far wall but my gun just can't reach em. I can't advance though as I was pinned from where I was hiding by BB shots that I just can't seem to tell where the heck it was coming from.
5th game
- My friend lent me another gun... an
M4A1
with scope. This is "the gun". I really like this as it is very "counter-terrorist"-ish in comparison to that gun I often use when playing Counter Strike. This last game is where I was hit in the chin early on the game. Ouch.
All in all, one astig hobby. Pretty much like playing Counter Strike on a real-life scenario.
iL post the pictures taken during the game when I get a hand on em soon.
Congratulations Buddy!
I would like to take this space and time to congratulate my buddy, Spongebob and Patrick and the rest of the guys of Bikini Bottom for grabbing the Orange Blimp plaque for "Best Cartoon of 2005" in the recent Nickelodeon Awards!
Keep up the good work and more power to Krusty Krabs!
A Place Called Nostalgia
Last Saturday, I went with the Shakk Boyz to scrounge the Quiapo area for hobby tools. Passing by Legarda, Mendiola, Recto, Rizal Ave, and Isettan gave me the creeps, man! It was like only yesterday when I use to wander around these places! Rizal Avenue was now a humongous park strip!! Asan na yung magulong kalye that I used to traverse when I go to Binondo??? Argh.. memories!! I used to pass by these streets up to the Divisoria part of Binondo para ihatid si Baning (not her real name obviously)... kamusta na kaya ikaw? I'm happy because I know you're happy with your life now. I was bitter back then for the things that I could have done but did not. But now, I'm just simply happy for you. You can never have that good a life now with me... I think.
Morayta was sort of different now. We parked in front of FEU and travelled the rest of the destinations on foot. From dental supply stores to watch repair shops, any thing that we deemed worthy to buy for our hobby works, we scrounge. At the end of the day, while nibbling on my sisig platter in Thomas Morato, I was able to buy a plasticard cutter, steel brush, fine-detail brushes, and a container bottle (not mentioning the gunbang gadgets I already said above).
I intend to go back there as I would like to buy a camouflage uniform of my own. Hmmm bakit andaming magandang girls sa school ngayon ha!?! Bakit nung andyan pako e wala masyado ha!!?! Hehe. But then again, I might just be too single-minded that time to look for others. Hehe. Wushus!
Enchanted Photos
These came too late... but for posterity purpose, 'ere we go! Justice League - Manila's 2005 Christmas Get-Away!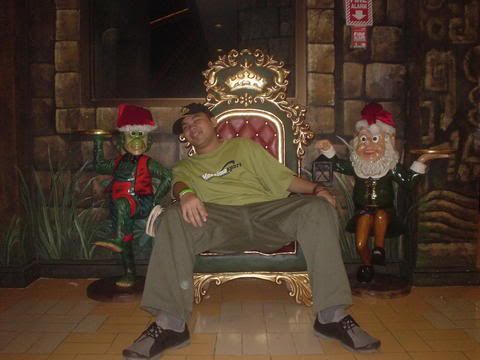 King of the Green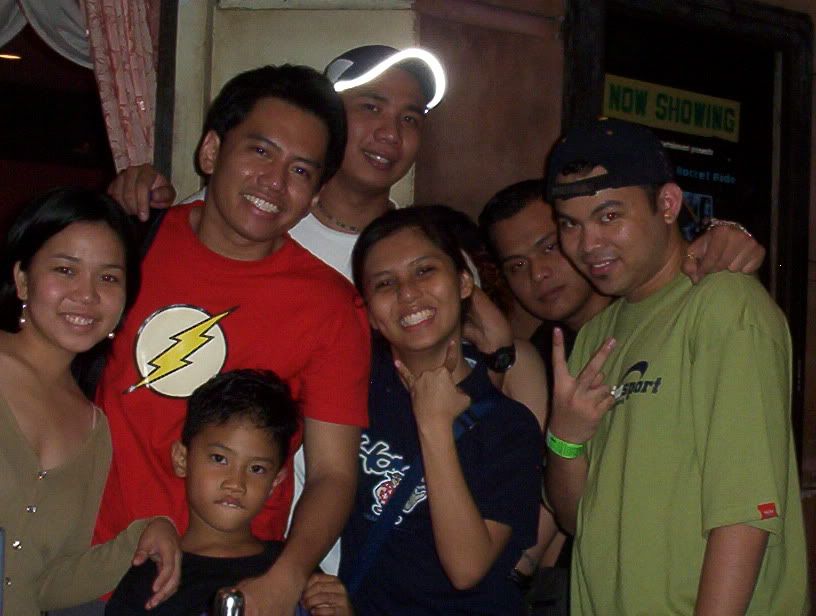 Three-Fourths ng Justice League
(From L to R) Lou the Guest Starring, Dan the Flash and the younger Flashling, DD, Rakistang Ayn, H (natakluban ni DD), Man (aka NN - Nasirang Norman), and April Boy Regino.

Rialto (From R to L): DD, Pong Pagong, NN, and H (natakluban na naman)


Gangsta Lovin with Man and Bee Aytch (sa wakas hindi na siya taklob)